2012 Contest Winners
The Following Books are Winners and Finalists in The KBR 2012 Best Indie Book Awards:
About Omar: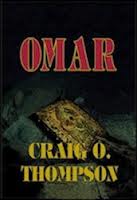 In 1995, CIA/FBI jointly discover secret plans to recover a trove of priceless treasure from deep below the North Atlantic Ice Barrier, aboard RMS Titanic. An ultra-zealous terrorist group competes against other divers, and sets off a complex web of international intrigue and suspense. CIA's Colonel Bramson recruits Dr. Cary Parker, Woods Hole oceanographer / archaeologist, to beat both teams to the ship's grave. And a wave of worldwide terrorism is set into motion at 2077 fathoms, as a rare, priceless book and lost treasure becomes the primary focus of a triadic search. Parker, challenges the terrorists on his own turf, and what follows is an epic adventure of legendary proportions.
- A Ravaged Titanic at Rest in the North Atlantic
- Mercenary Treasure Seekers   - A Complex Web of International Intrigue
Mystery/Thriller FINALISTS:
Last One Chosen by Stephen Woodfin
OMAR: A Novel Craig O. Thompson
Project Moses by Robert B. Lowe
The Fall of Billy Hitchings by Kirkus MacGowen
About WOOL: Omnibus
The first Wool story was released as a standalone short in July of 2011. Due to reviewer demand, the rest of the story was released over the next six months.
This is the story of mankind clawing for survival, of mankind on the edge. The world outside has grown unkind, the view of it limited, talk of it forbidden. But there are always those who hope, who dream. These are the dangerous people, the residents who infect others with their optimism. Their punishment is simple. They are given the very thing they profess to want: They are allowed outside.


Sci-Fi/Fantasy FINALISTS: 
Bypass Gemini by Joseph Lallo
Contract of Defiance by Tammy Salyer
Dremiks by Cassandra Davis
The Darkening Dream by Andy Gavin
Wool Omnibus by Hugh Howey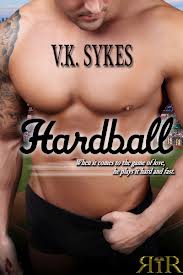 About Hard Ball:
After years of hard work and keeping her nose firmly to the grindstone, Dr. Holly Bell has finally achieved her dream: a position as a pediatric surgeon at a prestigious teaching hospital. Children's lives rest in her skilled hands. That means total dedication to her work and her patients without letting anything or anyone get in the way. And a hot affair with a superstar athlete is most definitely getting in Holly's way.
Nate Carter, star pitcher for the Philadelphia Patriots, has the world in the palm of his baseball glove. He's at the height of his game, a west coast team is about to lure him with even greater riches, and the most gorgeous women in town are in full pursuit. Nate has everything he wants, or at least he thinks he does, until he meets the beautiful and brainy Dr. Holly Bell. He's totally up for a hot affair, and Holly turns out to be the hottest.
But will Holly be willing to play his game? When the lovely doctor starts changing the rules, Nate realizes he just might be playing for keeps.
Romance FINALISTS: 
Deadly Obsession by Kristine Cayne
Hardball by V.K Sykes
The Memory of You by Laurie Kellogg
To Dare the Duke of Dangerfield by Bronwen Evans
Walking with Elephants by Karen S. Bell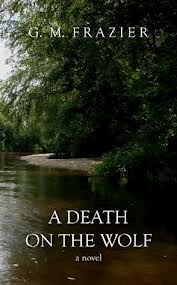 About Death on the Wolf:
For Nelson Gody, the summer of 1969, the summer he would turn sixteen, began as all his past summers had. Life on his family's small farm outside Bells Ferry, Mississippi, was safe and routine: chores, taking care of his little sister, working at a local gas station, swimming in the Wolf River with his best friend–his world was familiar and predictable.
All that would change as young Nelson experiences his first love, wrestles with the secret his best friend has been hiding, and meets a mysterious stranger who appears one day on an exotic motorcycle called the Black Shadow. Capped by the devastating effects of hurricane Camille, the events of that summer ensured that life as Nelson knew it would never be the same again.
Lit. Fiction FINALISTS:
A Death on the Wolf by G.M Frazier
After the Fog by Kathleen Shoop
Come Back to Me by Melissa Foster
Pegasus Falling by William E. Thomas
River in the Sea by Tina Boscha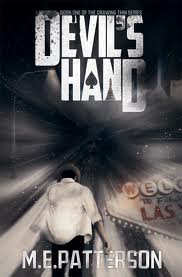 About Devil's Hand:
"Devil's Hand is damn entertaining… an impressive debut." ~ Horrortalk
"…a rousing mixture of action, horror, and mystery. …a fresh take on some familiar ideas about angels, demons, and the creatures in between. Definitely recommended…" ~ Supernatural Book Club
The lone survivor of a tragic airplane crash, Trent Hawkins inherited a supernatural lucky streak that made him famous, and hated, in the poker circles of the City of Sin. So the powers-that-be kicked his ass out.
Five years later, Trent and his wife return to Vegas, only to find themselves facing a demonic serial kidnapper, Armageddon-seeking angels, impossible shadow creatures, and an unholy blizzard that threatens to smother the city with ice. And by some strange twist of luck, Trent's the only one who can make things right. And he's got his own dark secrets to deal with.
Horror FINALISTS:

Devil's Hand by M.E. Patterson
The Beautiful Evil by Robbi Bryant
The Drought by Patricia Fulton
The Dying of the Light by Jason Kristopher
This Time You Lose by Chris Stralyn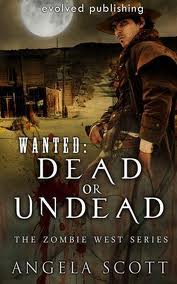 About Wanted Dead or Alive, The Zombie West:
Trace Monroe doesn't believe in luck. He never has. But when a fiery-headed cowgirl saunters through the saloon doors, wielding shotguns and a know-how for killing the living dead, he believes he just may be the luckiest man alive.
Trace wants to join Red's posse, but she prefers to work alone–less messy that way. In order to become her traveling companion, Trace has to agree to her terms: no names, no questions, and if he gets bit, he can't beg for mercy when she severs his brain stem.
He agrees, knowing only that Red is the sharpest shooter he's ever encountered. The fact she's stunning hasn't escaped his attention either.
What he doesn't know, is that Red has a very good reason to be on top of her game. She not only has the answer for how they can all outlive the plague taking over the wild, wild west, she IS the answer.

YA FINALISTS: 
Cycles by Lois D. Brown
Open Minds by Susan Kaye Quinn
Purple by Graham J. Sharpe
Untraceable by S.R. Johannes
Wanted: Dead or Undead, The Zombie West by Angela Scott
Please support these talented authors. Click on the links and covers, "Like" their book pages and purchase their books. The KBR 2013 Best Indie Book Awards is coming soon!