A Sweet & Funny Romance Read
Romance Lover's take a look at today's HOT NEW Release, Lucky Love by USA TODAY bestselling author Nicola Marsh. "Great writing and fun, loveable characters! "Jaz" is hysterical and her life is typical of many.. Her relationship with "Aunt Flo" is funny & loving. Simply a great read!" –Deb Jackson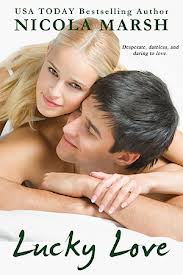 A Little About Lucky Love:
Jazmyn Harding is always single. What's worse? She's receiving advice from her eccentric sixty-year-old aunt via Skype from the kooky California town of Love.
Jazmyn has no plan to visit Love, but after another failed date she agrees to her Aunt's dare: if she hasn't found a man in one month, she's leaving Sydney and heading to Love.
Freshly motivated to find her a boyfriend, Jazmyn hits the playing field with brand new perspective. As time runs out…how far will she go to avoid Love?
About the Author:
USA TODAY bestselling author Nicola Marsh writes flirty fiction with flair! She has published 32 books with Harlequin Romance & Presents and sold over 3 million copies worldwide. Her first mainstream contemporary romance, BUSTED IN BOLLYWOOD (Entangled Publishing) released to rave reviews, including a nomination for RWA's Romantic Book of the Year 2012. Her second novel for Entangled, NOT THE MARRYING KIND, released July 2012 and features a Vegas bad boy and a brazen LA party planner matched in a marriage of inconvenience! Her first indie-pubbed contemporary romance CRAZY LOVE released September 2012 and quickly became an Amazon bestseller. She has a contemporary romance, FALLING FOR FLYNN, releasing with Crimson Romance October 2012 and a Young Adult urban fantasy series with Month9Books launching November 2013 with SCION OF THE SUN. Her YA thriller will release with Harlequin Teen in 2013.
What Fans Are Saying About Lucky Love:
"She's sassy and sarcastic – you can't help falling for her – the question I want answered is whether she will ever be lucky in 'Love' – looking forward to the next in the series!" –D. King
"Nicola Marsh is a magical story-teller. Her writing is superb and just flows without jarring a reader out of the story." –Nas Dean
Make sure to grab your copy of Lucky Love today.