A Fresh & Well-Developed Fantasy Read
You don't want to miss this well-developed fantasy and today's HOT NEW Release – A Dark Corner by J.A. Psoras. "J.A. created something new and different and I can't wait to read the sequel. There are still twists and turns and lots of secrets that I want to find out more about." -L. Blanchard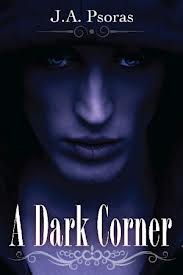 A Little About A Dark Corner:
Eric wants to be normal. But hiding in dark corners as a shifter doesn't make it easy. He has come to New York to meet his destiny: A beautiful girl, her conniving best friend, and a rock n' roll warlock who'll stop at nothing to raise hell.
About the Author:
J.A. Psoras is a lifelong Philadelphian who often dreams up fantasy and science fiction stories while in front of a bowl of noodles in Chinatown. An admitted chocolate-lover, a perfect afternoon might include a mouthful of mint M&Ms and a keyboard at her fingertips. She studied art history and creative writing on academic scholarship. In between baking and admiring butterflies and birds, she's working on urban fantasies and approachable, literary-infused sci-fi. Her short fiction has appeared in Aphelion with a new piece appearing in an upcoming issue of Schrodinger's Mouse. A Dark Corner is her debut novel. A sequel is in the works.
What Fans Are Saying About A Dark Corner:
"If you are looking for a book about shifters, evil deals and much more pick this up!" –Pam M.
"Enjoyed the love triangle and it sucked me in from the beginning. Looking forward to the sequel!!" –Donna B.
Make sure to grab your copy of A Dark Corner today.