The Ultimate Chick Lit Novel
Kindle readers, take a look at today's ultimate chick lit novel and our featured book The Life List by Chrissy Anderson. It currently has an amazing 4.8 star rating with 64 reviews. "…the book was suspenseful, funny, heartbreaking, sexy, dramatic, and believable. I can't wait to read the sequel, The Unexpected List. Don't make us wait long, Chrissy." -Amy Metz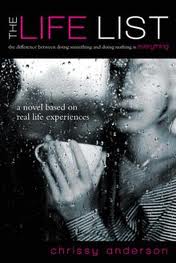 A Brief Summary of The Life List:
Chrissy Anderson, a twenty-eight year old fashion executive, created a seven-point life list at the age of sixteen and she's been steadily checking off the boxes and mocking the style and life choices of everyone around her ever since. Things change when she unexpectedly meets a much younger, Leo, who makes her question her "perfect life". Chrissy's lifelong friendships and her marriage are put to the test as she tries to sort out her feelings for Leo. With the help of her brassy, no-nonsense therapist, Dr. Maria, Chrissy learns more about herself than she anticipates. But, it isn't until the untimely death of her best friend that Chrissy is catapulted into long overdue authenticity and scrambles to correct the mistakes of her past….trying to figure out if it's Kurt, Leo or both that she has to get rid of to make everything right. Women of all kinds-twenty-somethings, housewives and superwomen wanna-bes will all be able to relate to the pressure of constructing the ideal life, only to fall short. Not everyone will agree with Chrissy Anderson's decisions, but all will pause as they follow along on her journey to ask, "What would I do if I were her?"
About the Author:
Chrissy Anderson is the author of The List Trilogy and the people, their quirks and the major events of her story are derived from personal life events.  She see's bits and pieces of her checkered past in almost every woman she encounters and she wants to help them, tell them they're NOT crazy. Chrissy's choices were stupid and sometimes sleazy, but, unfortunately, not all too uncommon. Chrissy currently lives in Portland, Oregon, with the love of her life and her beautiful daughter. A former fashion executive, she is now a writer, wife, and mother, who spends her life doing exactly what she always wanted, doting on those she loves.
What People Are Saying About
"A fast and furious read that you won't be able to put down until you're done. A funny and touching debut book by new author, Chrissy Anderson." –V. Espinosa
"I completely fell in love with this book. Once I started reading I couldn't put it down. Chrissy's character is very relatable and I cannot wait to read the rest of her story." –Amazon Reader
"I absolutely loved this book. From the very first words, I was hooked. I laughed and cried, especially towards the end of the book. It is well written, and makes one ponder our own lives. To love and cherish those around us, and to make a change (even with a thousand excuses) at a life that is monotonous, at best." –Grace
Don't delay…make sure to pick up your copy of The Life List today.