A Charming New Tale of Love & Friendship
Love, friendship and the magic of a makeover…if you love contemporary women's fiction, then take a look at today's HOT NEW Release, Reinventing Rose by bestselling author Kandy Shepherd.  A novel that author Cathleen Ross calls, "Sexy, funny and moving – I couldn't put it down."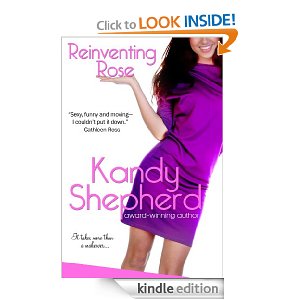 A Little About Reinventing Rose:
When an internet love affair goes wrong, Rose straightens her hair and boosts her bra size -  But as Rose throws herself headlong into her new life, she gets tripped up by a painful family secret and unresolved problems from her past. She's forced to question her beliefs about love and loyalty, old mistakes and new choices, and the bonds of both family and friendship. Rose discovers it takes more than a makeover to find the courage to be her real self. By reinventing herself, can Rose discover who she really is and face a fulfilling new future?
About the Author:
Kandy Shepherd is the award-winning author of contemporary romances published by Berkley Sensation, an imprint of Penguin New York, as well as the e-book romances THE CASTAWAY BRIDE (an Amazon best-seller) and SOMETHING ABOUT JOE, and the contemporary womens fiction title, REINVENTING ROSE. Kandy swapped a fast-paced career as a magazine editor for a life writing fun, feel-good fiction. She lives on a small farm in the Blue Mountains near Sydney, Australia with her husband, daughter, and a menagerie of animal friends that include a dog, cats, horses and two miniature bulls.
Don't miss out! Grab your copy of Reinventing Rose today.