A Fast-Paced Psychological Suspense
Suspense lovers, take note…today's featured book is Into the Arms of Madness: A Novel of Suspense by Regina Pacelli. It currently has a 4 star rating with 12 reviews. "Regina Pacelli has written a strong, very good, enjoyable first novel…If you like your books to be suspenseful, if you like your books with a psychological bent, if you like a good thriller then "Into the Arms of Madness" is the book for you." –Anita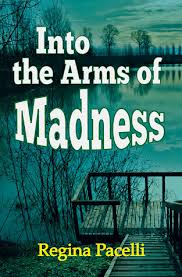 A Brief Synopsis of Into the Arms of Madness:
Young newlyweds Todd and Bridget met at a two-hour seminar and quickly fell for one another. Smart, caring, and quick-thinking individuals, very much in love, they've been devoted to each other right from the start. But, when Bridget learns bizarre and alarming things about Todd, things that he's kept hidden from her until their honeymoon, their idyllic romance begins careening out of control. Todd has high hopes and wants nothing more than for Bridget to understand and be part of his world. As Bridget struggles to understand, and the situation escalates, the events that unfold will put their sanity and love for each other to the test.
About the Author:
Regina Pacelli is also the author of another book, "Outsmart the Unexpected: Grow Your Creativity the Edge-of-your-seat Way," a book of dilemmas (in story form) you need to find a way out of. She has a background in computer science and public administration.
What People Are Saying About Into the Arms of Madness:
"The quick pacing and rapid development of the plot helped to create a sense of tension that began on the first page, and never let up. The tension builds right up until the end. It was compelling story with characters that you can feel for, flaws and all, and who you sometimes wanted to shout at. Highly recommended. One of the best books I've read in a while." –SunFish
"This is an exceptionally well written book that will leave you fulfilled while begging for more. I definitely feel as if I got my monies worth…and then some." –Whitley
"Original and well-written and the plot moves along at a brisk pace. It's a great read and I would recommend this book to anyone who enjoys novels that have elements of both psychological suspense and horror." –ILOVEBOOKS
Make sure you don't miss out, grab Into the Arms of Madness today.