A Must-Have Guide for Aspiring Writers
A must-have guide for writers. Take a look at today's featured book, Show & Tell in a Nutshell: Demonstrated Transitions from Telling to Showing (Writing in a Nutshell Series) by Jessica Bell. It currently has a 4.3 star rating with 21 reviews. "A practical, no-nonsense resource that will help new and experienced writers alike deal with that dreaded piece of advice: show, don't tell. I wish Bell's book had been around when I started writing!" ~Talli Roland, bestselling author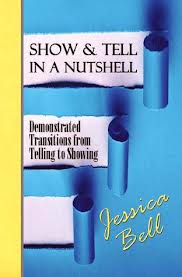 A Brief Synopsis of Show & Tell in a Nutshell:
An effective guide with sixteen real scenes depicting a variety of situations, emotions, and characteristics which clearly demonstrate how to turn telling into showing. A few short writing prompts are also provided.
An excellent pocket guide for aspiring writers. This user-friendly and simple solution will help you hone your craft no matter how broad your writing experience. With the convenient hyper-linked Contents Page, you can toggle backward and forward from different scenes with ease. Use your e-reader's highlighting and note-taking tools to keep notes as you read, and/or record your story ideas, anywhere, anytime.
About the Author:
The Australian-native contemporary fiction author and poet, Jessica Bell, also makes a living as an editor and writer for global ELT publishers (English Language Teaching), such as Pearson Education, HarperCollins, Macmillan Education, Education First and Cengage Learning. She is the Co-Publishing Editor of Vine Leaves Literary Journal, and co-hosts the Homeric Writers' Retreat & Workshop on the Greek Isle of Ithaca, with Chuck Sambuchino of Writer's Digest. For more information please visit: Website: www.jessicabellauthor.com Blog: www.thealliterativeallomorph.blogspot.com Vine Leaves: www.vineleavesliteraryjournal.com Retreat: www.hwrw.blogspot.com Twitter: www.twitter.com/MsBessieBell Facebook: www.facebook.com/author.jessica.bell
What Fans Are Saying About Show & Tell in a Nutshell:
"Jessica Bell addresses one of the most common yet elusive pieces of writing advice–show, don't tell–in a uniquely user-friendly and effective way: by example. By studying the sixteen scenes she converts from "telling" into "showing," not only will you clearly understand the difference; you will be inspired by her vivid imagery and dialogue to pour through your drafts and do the same." ~Jenny Baranick, College English Teacher, Author of Missed Periods and Other Grammar Scares
"A quick read with vibrant examples of how a passage can be transformed from "telling" readers about emotions to showing them. If underwriting and bland characterization are your Achilles heel, this little pocket guide is sure to be useful." –Laurel Garver
"The strength of Show & Tell in a Nutshell is in its concise examples. It really is showing you, not telling! This is a pocket-guide reference that writers will want to keep close and use again and again. You will find inspiration within these pages for your own WIP (work in progress)." –Angela Mackintosh
Aspiring writers, you must pick up your copy of Show & Tell in a Nutshell today.