A Gripping & Imaginative Epic Fantasy
Fantasy lovers, make sure to take a look at today's HOT NEW Release, The Danfians Prophecy by L Sengul. "The beauty of this book is the imagery. It is vivid and completely captivating. Sengul has developed each character immaculately and the book moves with a rhythm that is gripping." –Margaret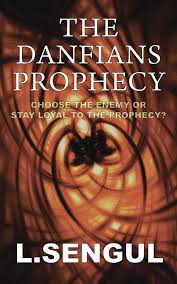 A Little About The Danfians Prophecy:
Chloe Rose learns that not only is she human but also a Danfian and a Sofayan…spirits from another planet. She is in danger and now must leave everything she knows. Chloe is being pursued as she is the one prophesied to destroy Ivan, the leader of Sofayans who controls this world. When Chloe is captured by Alexander, a Sofayan who is a bounty hunter, she ignites a passion within his hearm that has been dormant for centuries. And Chloe feels as if she has been cast under his spell.
About the Author:
What Readers Have To Say About The Danfians Prophecy:
"The action starts right away and you can't help but be drawn in. You find yourself trying to help her find a way to resolve the conflict and claim her love without betraying her people." –C. Davis
"The pace is dazzling; from the discovery that Chloe Rose is no mere mortal (echoes of Percy Jackson?) to her capture by a bounty hunter (echoes of Star Wars?), the story really gallops along with few pauses along the way." –Jan Heart
"Talk about adventure and fantasy, the Dafians Prophecy has it all. With a touch of drama and romance surely, bookworms who are a fan of Hunger Games and Percy Jackson will love this as well." –Amazon Reader
Make sure to pick up your copy of The Danfians Prophecy today.