Category:
Uncategorized
Crime thriller fans, take a look at the next installment of the Emily Stone Series, Dead Burn by Jennifer Chase. It currently has a whopping 4.8 star rating. "Jennifer Chase has released yet another heart thumping mind-blowing novel with her Heroine Emily Stone. From the front page to the last Ms. Chase carries the reader deep into that dark place that most people never want to go." –Yvonne Mason, Author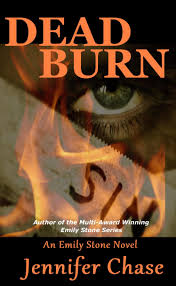 A Brief Synopsis of Dead Burn:
Vigilante detective Emily Stone hunts serial killers and child abductors, covertly and under the law enforcement radar, with her intrinsic skills of criminal profiling and forensic investigation. With Stone's toughest case yet, the arson serial killer immediately crosses her radar and sends her into the dark territory of a lethal pyromaniac's mind – to the point of no return.
About the Author:
Jennifer Chase holds a bachelor degree in police forensics and a master's degree in criminology. Her intense curiosity in the psychological aspect of crime is what drives her to write crime fiction. She lives in California, where she's currently at work on her next book in the series. For more information, please visit www.authorjenniferchase.com/
Praise for Dead Burn:
"This is the best Emily Stone thriller yet.If you love thrillers as much as I do you will love it! You won't be able to put the book down.There is excitement right to the end." –B. Altman
If you haven't grabbed your copy of Dead Burn, what are you waiting for.
Next Page »