Category:
Uncategorized
One Amazon readers calls today's nail-biting suspense, "A thrilling, fast paced spy novel, which doesn't have a dull moment." The Hell of Osirak: Betrayal (Book One of the Betrayal, Redemption and Salvation Trilogy) by Jaye Rothman already boasts an impressive 4.8 stars with over 20 reviews.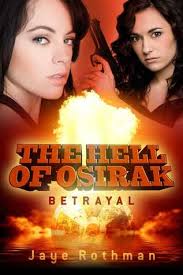 A Brief Synopsis of The Hell of Osirak: Betrayal:
DO YOU LOVE EXCITING NAIL BITING THRILLERS?  The year is 1981. The Osirak nuclear facility will become operational in a few weeks. Can British MI6 agent Nikki Sinclair stop an Armageddon of unimaginable horror and destruction from engulfing the Middle East?  Sinclair is sent on a mission that will be fraught with danger, deception and betrayal. Unexpectedly she encounters her ex-lover, Dvora Bar Zahavi who is an agent for the Mossad, is this a coincidence? Or are dark forces gathering around Sinclair?
This fast paced, action packed, grand panoramic spy thriller is set in five countries and over three continents. Loosely based on a true story, code named Operation Opera by the Israelis, this exciting book by Jaye Rothman will intrigue and entertain you
About the Author:
In 1980 Jaye Rothman was flying to Johannesburg, when the plane was scheduled to make a short stop over. It didn't. The passengers were informed there was a strike. The scene in the airport and the journey to the hotel, was exactly how it's described in the book. Jaye and the other passengers were in transit for three days, and relieved of their passports. This is Jaye Rothman's debut full length novel.
What Readers Are Saying About The Hell of Osirak: Betrayal:
"Swiftly paced and full of action, drama, and intrigue, this one is an entertaining read if you are a fan of suspense novels." –Online Book Reviews
"Rothman's writing is propulsive, sexy, ridden with tension and relieved by sensual intimacy encounters. She knows the territory well and proves that she has indeed been successful in creating a credible, delectable female spy character who seems to have a future in subsequent novels." –Grady Harp
"This book just took my breath away!!…This book is gold and I'd suggest you just go for it!! You'd be happy that you did!" — JEN
Next Page »