Category:
Uncategorized
Read the delightful, entertaining romance book that Flashlight Commentary Book Blog calls, "…brimming with both humor and heart." Come Dancing by Leslie Wells has a sizzling 4.8 star rating. Don't miss this one.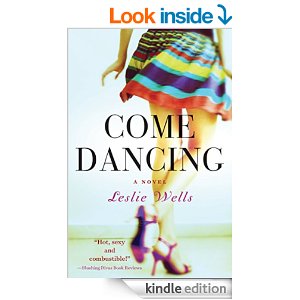 A Little About Come Dancing:
Julia is a book-loving publisher's assistant. Jack is a famous British rock star. "Opposites attract" is an understatement. Julia Nash lives in New York City, and likes to go out dancing with her best friend, Vicky. One night, a hot British guitarist invites them to his VIP section—and things take off from there … Jack exposes Julia to new experiences, from exclusive nightclubs in SoHo to the Chateau Marmont in Hollywood. Their torrid relationship takes her to heights she's never known—and plunges her into depths she's never imagined.
About the Author:
Leslie Wells left her small Southern town in 1979 for graduate school in New York City. After receiving her Master's in English Lit, she got her first job in book publishing. She has edited forty-eight New York Times bestsellers in her over thirty-year career, including thirteen number one New York Times bestsellers. Leslie has worked with numerous internationally known authors, musicians, actors, actresses, television and radio personalities, athletes, and coaches. She lives on Long Island, New York.
What Fans Are Saying About Come Dancing:
"Julia is such a relatable character and her steamy relationship with Jack is so much fun to read." –Kirsten
"I was so delighted with this story. I loved the characters, their development, and the sweet nostalgia it awoke in me. It was a perfect read — intelligent but easy, satisfying but surprising. You'll gobble it up." –Maxine
"A very entertaining and fun summer read! The author captured the time period beautifully and crafted a story we probably all would love to have lived!" –R.A.
If you haven't picked up the entertaining, steamy romance, Come Dancing, do it today.
Next Page »