November 25, 2013

Filled under

Satire
Satire like no other. Today's feature book will keep you thoroughly entertained. No Hope for Gomez! is a hilarious and unique mystery fiction by Graham Parke and currently has an outstanding 4.2 star rating with 28 reviews.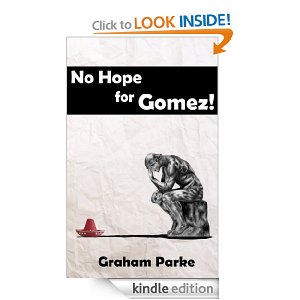 A Little About No Hope for Gomez!:
When Gomez Porter becomes part of an experimental drug trial, he has to document any strange experiences through a blog. What Gomez isn't ready for, is so many of his experiences suddenly seeming strange; the antiques dealer trying to buy his old tax papers, the phone-sex salesman who hounds him day and night, the super sexy research assistant who falls for him but is unable to express herself in terms outside the realm of science. Then when one of the trial participants turns up dead and another goes missing, Gomez begins to fear for his life. No longer sure who he can trust and which of his experiences are real and which merely drug induced delusions, he decides to go underground and work out a devious plan.
About the Author:
Graham Parke is responsible for a number of technical publications and has recently patented a self-folding map. No Hope for Gomez! is his fiction debut. Follow his blog at: www.grahamparke.blogspot.com
"Extremely witty and clever writing that contains keen insights into human nature." –California Chronicle
"Challenges the way we think about, and interact with, the world around us." –Kirkus Discoveries
"The antics in this book will leave the reader laughing. Graham Parke is a genius." –Readers Favorite
If you haven't grabbed your copy of the humorous satire, No Hope for Gomez! do it today.
« Previous Page
—
Next Page »