Fans are loving today's beautifully penned coming-of-age, BLACK BEAR LAKE by Leslie Liautaud. It boasts an impressive 4.7 star rating and readers are raving.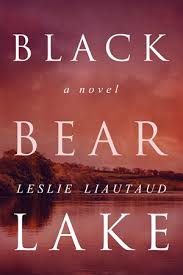 A Brief Synopsis of BLACK BEAR LAKE:
Adam Craig, a forty year-old stock trader in Chicago, finds his marriage teetering on the rocks and his life at a standstill. Desperate and on the edge of personal collapse, Adam takes the advice of a therapist and travels to his childhood family compound on Black Bear Lake with hopes of making peace with his past. Stepping onto the northern Wisconsin property, he relives the painful memories of the summer of 1983, his last summer at the lake.
In August 1983, a self-conscious fifteen year-old Adam carries a world of worry on his shoulders as he arrives at Black Bear Lake. Between anger and fear of his mother's declining health as she quietly battles a quickly spreading cancer and his cherished cousin's depression over her parents' bitter divorce, Adam is swept up in smothering familial love among the multiple generations and heartbreaking misunderstanding and betrayal. Adam is forced to learn that there's a fine line between self-preservation and the strength of family blood, all the while unaware of the impending tragedy that will ultimately change his life forever.
Praise From Fans of BLACK BEAR LAKE:
"I would definitely recommend this book! Well written, vivid…..almost like I was there during each event that took place during the book." –Pen
"This was a great story of love and loss. I would highly recommend it to anyone looking for a good book to read." –Amazon Reader
"I would highly recommend this enjoyable, easy read about the many forms of love, family, and finding oneself. The author respects her characters and does an excellent job of delving into the angst-ridden psyche of the adolescent, without all the silly drama of a twilight-style young adult book. Well done!" –BethanyV.
Don't miss out on today's beautifully penned coming-of-age romance, BLACK BEAR LAKE.
« Previous Page
—
Next Page »