Home
»
Uncategorized
» Best Indie Books of 2012 SEMIFINALIST – Glow Stick Gods by jon-david
Best Indie Books of 2012 SEMIFINALIST – Glow Stick Gods by jon-david
Today's Best Indie Books of 2012 SEMIFINALIST is The Glow Stick Gods by jon-david. Based on true-events and inspired by the author's own experiences in the 90's Chicago party scene. Glow Stick Gods is the second novel in the Hairdresser Chronicles.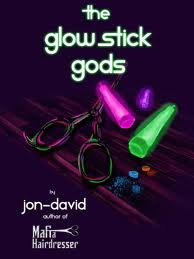 A Little About The Glow Stick Gods:
Jessy, the Mafia Hairdresser, reinvents himself as an A-List Chicago party boy and befriends celebrity book-agent, Tarin, who encourages him to party-on and write about the nightlife as only he can.  Jessy falls in love with a "Newbie," someone whom he shares the secret manual on how to play safe with the latest party favors available to him and his friends. Jessy offers a shocking insiders-only snapshot of nightlife world in 90's Chicago. The Glowstick Gods is inspired by the authors own experiences and true events, including Chicago Mayor Daley's war on drugs, the party circuit, and the Chicago "A-lister" who killed a cab driver with his own cab. Irony, hypocrisy or hilarity, jon-david's unapologetic expose' of a fabulously dangerous lifestyle will keep you laughing, even if many of his friends did not survive to laugh with you.
About the Author:
jon-david is from L.A. area and now lives in Chicago. He's an actual hairdresser at Joseph Michael's Salon & Spa. He trained at Second City and did a few plays, parade commentary, tv cable specials for charities.
He wrote and sold one screenplay. Then he wrote the play version to help get the screenplay made into a movie, which never happened. The play was a sellout for six weeks though.
He's done lots of work that he's proud of such as rallies for civil rights and jumping off a building for charity.
Humor is good. It coats the cognitive palate so that the serious and scary can be digested more easily. That's why most of his writing has a laugh or two in it, even if what he's writing is serious.
What People Are Saying About The Glow Stick Gods:
"A racey romp through the 90's party scene. A good read, set up in an interesting format of many stories within the story. Follow Jessy on his escapades though Chicago, Miami & Toronto." –Patti H.
"… Jon David's writing style, funny, sharp." –Avid Reader