Banner Book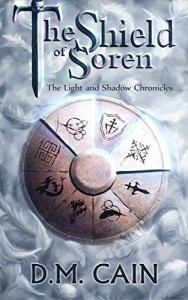 Check out our August banner book, the page-turning coming-of-age fantasy, The Shield of Soren by award-winning author, DM Cain.
Ten-year-old Soren Nitaya's marked talent makes him the youngest soldier ever to become an apprentice to the legendary warrior, Raven Lennox. As a prince of Alcherys, he will be expected to fight in the eternal war against the Brotherhood of Shadow when he reaches sixteen.
But is the young prince up to the task when he's more interested in causing mischief than in mastering weapons?
"Cain has once again set the stage with good versus evil in way that makes me want more. No spoilers. Read it yourself. You won't be sorry." -Reader
"Interesting, dark fantasy tale full of surprises and magic." -Amazon Reader
Pick up your copy of The Shield of Soren and find out why readers can't get enough!