The Boy Who Wanted Wings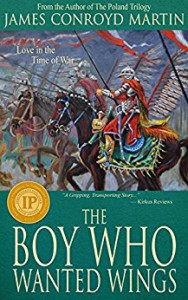 A love and war story that culminates in one of the most crucial and consequential battles in history.
GOLD MEDAL WINNER in the Independent Publisher Book Awards, the IPPYs.
The FIRST 9/11 attack actually occurred at Vienna on September 11-12 in 1683 when the Ottoman Empire stood poised at the gateway to Christian Europe with the intention of forcing Islam on the entire continent. After a months-long assault, the Turks were just hours away from bringing down the weakening citadel and imposing jihad.
"History comes alive in this captivating saga of a desperate war to stave off conquest and extermination. A young man with dreams of greatness is swept up amid the deadly clash, but will he have to sacrifice love itself to become an elite defender of his homeland? The Boy Who Wanted Wings is a powerful, emotionally moving story, highly recommended."
~MIDWEST BOOK REVIEW
"Characters are complex, well developed, and consistent. Their emotional lives are exposed even as the horrors of war loom. The Boy Who Wanted Wings is an excellent read whether one's preferred genre is historical fiction or not."
~PORTLAND BOOK REVIEW