New York Times Bestselling author Allan Leverone calls today's feature book, "…a pulse-pounding read that will keep you up long past your bedtime, turning pages as fast as you can. If you love suspense, do yourself a favor and make Donna Galanti's Element series your next read." If you haven't snagged your copy of A Hidden Element by Donna Galanti, what are you waiting for?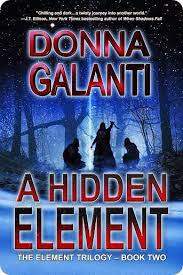 A Little About A Hidden Element:
Evil lurks within. When Caleb Madroc is used against his will as part of his father's plan to breed a secret alien community and infiltrate society with their unique powers, he vows to save his oppressed people and the two children kept from him. Seven years later, Laura and Ben Fieldstone's son is abducted, and they are forced to trust a madman's son who puts his life on the line to save them all. The enemy's desire to own them—or destroy them—leads to a survival showdown. Laura and Ben must risk everything to defeat a new nemesis that wants to rule the world with their son, and Caleb may be their only hope—if he survives. But must he sacrifice what he most desires to do so?
About the Author:
Donna Galanti writes suspense, young adult, and middle grade fiction. She is an International Thriller Writers Debut Author of the paranormal suspense novel A HUMAN ELEMENT, book 1 in the Element Trilogy, and book 2, A HIDDEN ELEMENT, coming summer 2014 by Imajin Books. Her middle grade series, JOSHUA AND THE LIGHTNING ROAD, debuts in 2015 by Month9Books.
Praise for A Hidden Element:
"An intoxicating blend of sci-fi and suspense! Donna Galanti brings together all my favorite elements—psi-powers, aliens hiding among us, sex as a weapon and secret rebellions that could change worlds. A Hidden Element is an edge-of-your-seat read that had me holding my breath and crossing my fingers…at least until I had to turn the next page!" —John Everson, Bram Stoker award-winning author of Siren
"Chilling and dark, Donna Galanti's A Hidden Element is a twisty journey into another world, where fathers and sons fight the ultimate battle, and ghostly strangers manipulate those left behind on Earth. Don't miss it." —J.T. Ellison, New York Times bestselling author of When Shadows Fall
"A Hidden Element is a fascinating look at the bleak and graphic world of the Elyon Destroyers, a humanoid race with special powers and a strong drive to endure and procreate at all costs, and other Elyons who struggle to stop them and save humanity. It is also a haunting story about just how far parents will go to protect, or destroy, their children in the name of love." —Rebecca Cantrell, New York Times bestselling author of The World Beneath
Next Page »