2015 Kindle Book Awards
Welcome to the 2015 Kindle Book Awards
Sponsored by…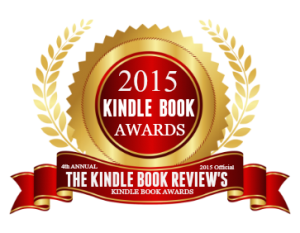 Chicken dinner, we have a winner…7 actually. We're proud to present The Kindle Book Review's 2015 Kindle Book Award Winners! It's been a great year, and ALL of the submissions have made this year's contest an amazing experience for our review and judging team.
We want to give a big shout out to our co-sponsor, Digital Book Today, and our other sponsors, Author Marketing Club, K-Boards, and Book Design Templates by Joel Friedlander. These are top-notch sites for authors and their many needs. Please visit their sites and tell 'em thanks for supporting The 2015 Kindle Book Awards!
The 2015 field was amazing, and very competitive. So we're looking forward to our 2016 Awards. To learn more about the 2016 Kindle Book Awards and other KBR news, join our author newsletter by clicking here. Authors and readers… please share this announcement using the social media buttons below. Thanks!
Congrats, Winners! Each of you have won $1,200+ in cash ($350) and prizes from our sponsors. Click here for contest details. We will contact you and award prizes over the next 7-10 business days.
Non Fiction
TOP-5 FINALISTS
The Girl Behind the Door – John Brooks
I Am Raymond Washington – Zach Fortier
Sihpromatum, Back Packs and Bra Straps – Savannah Grace
Naked Truths About Getting Book Reviews – Gisela Hausmann
Shot Down – Steve Snyder
Split: A Child, A Priest, and the Catholic Church – Mary C. Dispenza
With Angel's Wings – Stephanie A. Collins
It Takes a Fool – Sasha Dreams
Connecting Happiness and Success – Ray White
Kamikaze Kangaroos – Tony James Slater
21 Days in Maui – P. L. Como
Journey Into Light – Gayle Rose Martinez
Determined: The Story of Holocaust Survivor – A. Avraham Perlmutter Ph.D
Love and the Mystery of Betrayal – Sandra Lee Dennis
Trash: A True Story – Laurie Anne Hoover
On Hearing of My Mother's Death Six Years After It Happened – Lori Schafer
Rupee Millionaires – Frank Kusy
Curbcheck Reload – Zach Fortier
Are You Kidding Me? – Stacey Gustafson
Nine Houses – Mary Eatmon
Sci-fi/Fantasy
TOP-5 FINALISTS
Eleanor (The Books of the Five Book 1) – S F Burgess
Angeli – Amy Vansant
Whiskey Witches – S.M. Blooding
JAYCE – Josh Barkey
Breaking the Nexus – Lindsay Avalon
The Universe Builders: Bernie and the Putty – Steve LeBel
Origins – Sean Hayden
AlterWorld – D. Rus
Dire Straits – Helen Harper
Zeus is Dead: A Monstrously Inconvenient Adventure – Michael G. Munz
A Time to Die – Nadine Brandes
Exigency – Michael Siemsen
Born to Magic, Tales of Nevaeh, Volume 1 – David Wind
The Walls of Flemington – Juliette Rogasik
The Sentient (The Sentient Prophecy Book 1) – Jessica Crawford
Bait – Courtney Farrell
Treasures, Demons, and Other Black Magic (Dowser 3) – Meghan Ciana Doidge
I See Me (Oracle 1) – Meghan Ciana Doidge
eMOTION: Hard Wired – C. Ryan Bymaster
Blood and Royalty: Dragoneer Saga Book 6 – M.R. Mathias
Romance
TOP-5 FINALISTS
A Scandalous Husband – Bev Pettersen
To Ride a White Horse – Pamela Ford
An Almost Perfect Christmas – Donna Fasano
The Man I Love – Suanne Laqueur
The Vixen and the Vet – Katy Regnery
Caught Up in You – Colee Firman
Kiss a Cowboy – Deanna Lynn Sletten
Loving Lauren – Jill Sanders
Falling for Emma – Alix Nichols
The Girl on the Half Shell – Susan Ward
Loving Lieutenant Douglas – Barbara Devlin
The Wolfe – Kathryn Le VeQue
No Perfect Fate – Jackie Weger
Soldier On – Sydney Logan
Rough Waters – Maggie Touissaint
Things Lost in the Fire – Katie Jennings
Black Moon Draw – Lizzy Ford
The Seacrest: A Love Story – Aaron Paul Lazar
A Lush Betrayal – Selena Laurence
Come Dancing – Leslie Wells
Literary Fiction
TOP-5 FINALISTS
The Other Side of Quiet – Tara C. Allred
The Poppy Field Diary – Carey Richard
The Lion Trees Vol. I & II – Owen Thomas
The Collection of Heng Souk – S.R. Wilsher
My Name is Thank You – Kaizen Love
Just Wondering: Alice's Story – Jianna Higgins
Returning to the Lion's Den – Marco Manfre
Triangle of Hope – Michael Meyer
The Cancer Club – Lucinda Sue Crosby
The Art of Raising Hell – Thomas Lopinski
American Gypsy Girl – Mary Zinda
Beneath the Greater Sky – Andrew Voelker
She's Gone – Joye Emmens
Kaleidoscope – Kevin Berry
Stim – Kevin Berry
God & King – J.L. Spohr
Illusion of an Ending – Danielle Soucy Mills
Do No Resuscitate – Nicholas Ponticello
Red Clover – Florence Osmund
Mystery/Thriller
TOP-5 FINALISTS
Unallocated Space: A Thriller (Sam Flatt Book 1) – Jerry Hatchett
White Lady – Jessica Bell
Freak Show (Episode One: The Nightshade Cases) – Patti Larsen
The Eye of Shiva (The Project Book 8) – Alex Lukeman
Murder In Elysium – George Wier
This Time Justice – Liz Roadifer
Hometown Secrets (Linda Darby Mystery Book 2) -David Bishop
Fatal Redemption – Lou Kilzer and Mark Boyden
Soul (Trinity Trilogy Book 3) – Audrey Carlan
The Blacker Death: An Ebola Thriller – Larry Enright
Leverage (The Mistaken Series Book 2) – Nancy S. Thompson
Area Bird: Duty doesn't always follow the rules (Gray Girl Book 2) – Susan l. Spieth
Gray Girl: Honor isn't always black and white – Susan l. Spieth
GENE CARDS: A Thriller – E.E. Giorgi
Natalie's Art (Frank Renzi Book 5) – Susan Fleet
Aberration – Lisa Regan
Henry and Tom: A Unique Rescue Novel – Michael Atkins and Wid Bastian
LIVE FREE OR DIE – Max Gordon
Fire Beach (Lei Crime, Book 8) – Toby Neal
Nobody's Child (Georgia Davis Series Book 4) – Libby Fischer Hellmann
Suspense/Horror
TOP-FIVE FINALISTS
Mazie Baby – Julie Frayn
Don't Look Inside – Spike Black
Abra-Cadaver – Matt Drabble
Cicada Spring: A Novel – Christian Galacer
Eyes to the Soul – Dale Mayer
Mystery and Misadventure: An Old Acquaintance – M.D. Hall
The One You Feed – James Drummond
Haven: (I Dream of Zombies, 2) – Vicki Johnstone
Ancient Enemy – Michael McBride
Madame Lilly, The Time of Sanura – Dormaine G.
Sylvie – Stacy Galloway
MILK-BLOOD – Mark Matthews
Housebroken – The Behrg
Apex Predator – J.A. Faura
Unreal City – A.R. Meyering
Hologram: A Haunting – James Conroyd Martin
Tourist Trapped – K.J. Klemme
Reaper's Deliverance – Miranda Stork
Devil's Lake (Bittersweet Hollow Book 1) – Aaron Lazar
The Drowning Man – Sara Vinduska
Young Adult
TOP-FIVE FINALISTS
Tales of Ever – Jen Wylie
If Everyone Knew Every Plant And Tree – Julia C. Johnston
The Clay Lion – Amalie Jahn
Circle of Nine: Beltany – Valerie Biel
Collide (The Solomon Experiments Book 1) – Christine Fonseca
Chrissie's Run – S.A. Mahan
Sanguine Mountain (Camazotz Trilogy Book 1) – Jennifer Foxcroft
Dream On (Dare to Dream Book 2) – Kate Lattey
H.A.L.F.: THE DEEP BENEATH – Natalie Wright
Divine Fall – Kathryn Knight
Excelsior – George Sirois
THE BELIEF IN Angels – J. Dylan Yates
Sacrificed (The Last Oracle, Book 1) – Emily Wibberley
Steemjammer: Through the Verltgaat – John Eubank
Death Wish – Megan Tayte
Summer Confessions – Lynn Vroman
Lorehnin – A Novel of the Otherworld (The Otherworld Book 6) – Jenna Elizabeth Johnson
NOLA Gals – Barbara J. Rebbeck
The Place We Went to Yesterday – Lisa Mauro
How I Became a Teenage Survivalist – Julia L. Casey
Congrats, authors! See you on Sept. 1st. To see the official rules, click here.