2014 Best Kindle Book Awards
 Welcome to Kindle Book Review's 2014 Best Kindle Book Awards
Sponsored by…


Welcome to the The Kindle Book Review's official 2014 Best Kindle Book Awards page. This is our 3rd annual literary contest and it's bigger and better than ever. There will be 7 category winners and here's what each winner will take home…
$500 Cash to Each Category Winner!
$300 promotion credit from Kindle Book Review, Digital Book Today, BargainBooksy, and Kindle Boards.
A Free Premium Membership from The Author Marketing Club valued at over $100.
"Badges" awarded to Category Semi-finalists, Top-5 Category Finalists, and 7 Category Winners.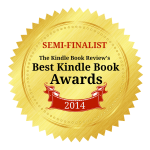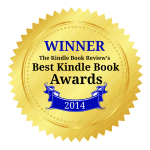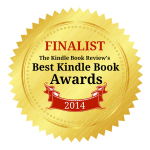 WHEN:Registration Starts Feb 10, 2014. Ends May 1, 2014
WHO:
Any
Independent and Small Press Author.
WHAT: eBooks published on Amazon between May 1, 2012 – May 1, 2014 (Must have Amazon Link)
COST: $25
HOW:
Click on the
BIG RED "REGISTER" Button and fill out our easy registration.


**** 2015 EARLY REGISTRATION: 2015 Contest Submissions Accepted HERE. Use coupon Code (SJC85) for a 10% Early-Bird Discount!


PROCESS:
Books will be pre-screened by KBR Staff, judging "Look Inside" sample (90%) and Description (10%). We are looking for books with a compelling book description, but more importantly, books that "grab us from the beginning". The screening process is an indication of your potential buyers experience with your book, as subjective as that is.
If book passes "pre-screening" it will become a "Semifinalists" (20 max per category) and a Judge will read entire manuscript. Books will be judged by The Kindle Book Review Team of reviewers who read hundreds of books each year.
CATEGORIES: The Following Genres and associated Sub-genres are welcome.
Mystery/Thriller
Romance
Y/A
Sci-fi/Fantasy
Literary Fiction
Horror/Suspense
Non-Fiction
AWARDS: 7 category Winners will Receive $500 cash, and $400+ in promotion and tools from our sponsors.
$500 to Each Category Winner.
$100 in Free Promotion from The Kindle Book Review.
$100 in Free "Group" Promotion from Digital Book Today.
$50 in Free Promotion from BargainBooksy.
$50 in Free Promotion from Kindle Boards (K-Boards).
A Free 1-year Premium Membership at Author Marketing Club valued at over $100.
All Semi-finalsts, Top-5 Finalists, and Winners will receive a Contest Badge.
HOW MANY: Authors can submit up to 2 titles max.
IMPORTANT DATES (Mark on your Calendar & watch your email/spam):
Submissions Accepted: Feb. 10, 2014
End Submissions: May 1, 2014
Announce Category Semi-finalists: July 1
Announce Top-5 Category Finalists: Sept. 1
Announce 7 Winners: Oct. 1
LANGUAGE: All books must be written in the English language.
FORMAT: All submissions must be in "mobi" format. This is the most commonly accepted Kindle format. You can get your mobi copy from your KDP account. Or you can go to draft2digital.com and get your MS Word doc formatted to mobi for FREE. You do not have to publish at draft2digital.com to take advantage of their free formatting service. I highly recommend this site; their customer service is excellent. Please do not contact us regarding book formatting; we're going to be too busy reading to help you with this. If you have questions, contact KDP Customer Service, or draft2digital.com.
HOW CAN YOU HELP? GLAD YOU ASKED!
You can help us promote this contest with tweets, FB posts, and Blog posts. The more publicity this contest gets, the better exposure YOU will receive if you are a Finalist or Winner! Use this link in your promotion: 
http://wp.me/P2H01p-1nH
RULES & CONDITIONS:
I agree that my book will be judged by the Kindle Book Review Team and that I am not guaranteed an award, prize, or publicity in return for the entry fee. I understand that awards are based upon merit and not because the author buys promotion, and that the judges decisions are subjective and final. I authorize The Kindle Book Review and their associates permission to read and judge my work, and will not hold them responsible for any damages seen or imagined due to not winning an award or prize. Only semi-finalists (Top 20 max per category) and finalists (Top 5 per category) and category winners will be notified if they advance. All works will be judged on the file submitted–no updated files will be accepted. further give The Kindle Book Review permission to post my book cover, excerpts, or use my name for publicity purposes during and after the contest. I agree that the judges are not obligated to "review" , "edit", or "critique" my book. WHAT NOT TO DO:
•Do not email us and inquire about your status/results. We will not respond to inquiries.
•Do not send doc files, jpg, pdf or unformatted Kindle files.
 If you are not on our author mailing list, you can subscribe here.
Confirm your subscription and check your email/spam for future notifications and confirmations.