An Exceptionally Well-Crafted Fantasy Read
Fantasy fans, you are going to delight in today's expertly crafted escape and our feature book, Shadows of the Realm (The Circle of Talia) by Dionne Lister. It currently has an outstanding 4.7 star rating with 27 reviews. "…smooth-reading, delightful, high fantasy…The characters are superbly delineated, and the action is realistic and intriguing…author Dionne Lister deserves much more than five stars for her ability with lyrical description, which makes the reading flow so well." –Mallory Anne-Marie Haws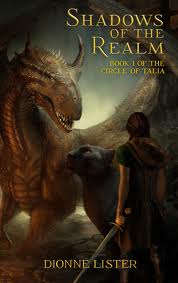 A Little About Shadows of the Realm:
Bronwyn and Blayke are two strangers being drawn into the same war. Their world is facing invasion from the Third Realm. While they move unknowingly toward each other, they are watched, hunted, and sabotaged. When the Dragon God interferes, it seems their world, Talia, will succumb to the threat. Can they learn enough of the tricks of the Realms before it's too late, or will everything they love be destroyed?
The young Realmists' journey pushes them away from all they've known, to walk in the shadows toward Vellonia, city of the dragons, where an even darker shadow awaits.
About the Author:
Dionne lives in Sydney and writes fantasy and suspense stories. She loves writing and sharing her stories, but she wishes they wouldn't keep her awake at night.
What Fans Are Saying About Shadows of the Realm:
"Exceptional in the fact that it is a completely unique novel, Lister creates a new world that is so realistic, it makes the reader want to grab a ticket and head over for a nice permanent vacation. I fell in love with the characters, and was disappointed when the novel ended, and am ready for more." –Amber Norrgard
"…it's so full of fantasy and adventure that you want to just jump in and live it with all its colorful characters." –Kim Stapf
"Beware! Once you begin you will find it difficult to stop. While this is a fantasy tale it will no doubt hook even the most ardent of realists. Dionne Lister is a true story-teller with heart." –Rowan Jefferies
Escape to a expertly created fantasy world today, pick up your copy of Shadows of the Realm.