Find the Love of Your Life
All the single ladies…check out today's HOT NEW Release Hopeless to Housewife by Matthew Cirino. "Hopeless to Housewife delivers the specifics on how to adapt to love's new challenges and shows the solutions to finding the love of your life, and finding that man, that you will one day call, husband."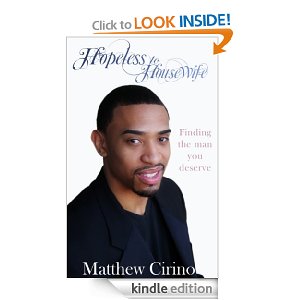 A Brief Summary of Hopeless to Housewife:
It is almost every woman's dream to one day walk down that aisle to tie the knot with the love of their life and forever enjoy their eternal happiness. But for some women this dream seems too far from reality. But what if I were to tell you that no matter who you are or where you're from, or how many bad relationships you've been in, that there is an opportunity for you walk down that aisle one day. 'Hopeless to Housewife' brings solutions to the table to fix your troubled love life.
About the Author:
Matthew Cirino, is a chef, musician, and author. The acting bug bit him at a young age. As a young teenager he appeared in commercials, plays, and short films. He became interested in writing books after giving self-help advice to readers on his squidoo blog. Matthew enjoys reading books on the subject of romance and his favorite subject to write upon is love, because he believes that it is one characteristic that everyone shares. Matthew lives in New Jersey and is now pursuing a life as an upcoming author.
What A Fan Has to Say About Hopeless to Housewife:
"If you are currently in the dating scene, this book is for you. The dating scene can be rough at times and women need some guidance as to what and what not to do. This is a very helpful book that provides great insight into the minds of men and women." –Charmy
Make sure to grab your copy of Hopeless to Housewife today.