A Riveting & Fast-Paced Thriller
Suspense fans, take a look at today's explosive thriller and our feature book, The Delta Chain by Iain Edward Henn. It currently has a 4 star rating with 22 reviews and is a Top 10 Bestseller in Amazon Technothrillers and Police Procedurals. "A bona fide suspense thriller…takes the reader on a nonstop ride through the intersecting worlds of drama, intrigue, and scientific mystery…a thoroughly compelling tale of political conspiracy." – Renee Washburn, Apex Reviews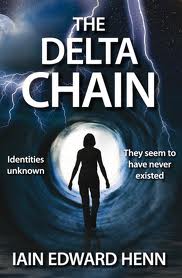 A Little About The Delta Chain:
Detective Adam Bennett has discovered a disturbing trend in recent cases. Six unidentified bodies have shown up along the coast of Australia and the U.S. The bodies don't match the fingerprints, dental records or DNA of anyone in the Missing Persons Database.
Kate Kovacs' brother is killed in the wilderness and she uses her IT skills to help track the murders. When a link is found between the two cases, Adam and Kate work together to piece together the mystery.
Ruthless forces are gathering, and they will stop at nothing to keep the secret hidden. Adam and Kate just became their targets…
About the Author:
Iain Edward Henn is an author of novels and short stories in the mystery/suspense/thriller genres. He has a background in newspaper and magazine publishing and lives on the outskirts of Sydney with his wife, Janne. His short fiction has been published by magazines in England, North America, Norway, Denmark, Sweden, Australia and New Zealand and his story, 'Private Day,' was also published with the Scandinavian University Press. His novels are 'Disappear,' and 'The Delta Chain,' which was an Amazon Breakthrough Novel Award Quarterfinalist, and both have appeared on the Amazon UK's Mystery and Thrillers bestseller lists. http://iain-edward-henn.blogspot.com
Some Praise for The Delta Chain:
"A fast-paced thriller…The novel's pacing is solid…hooks readers into caring about the chase." – Publisher's Weekly
"The driving characters had me hooked into their lives and conflicts. I highly recommend The Delta Chain."– Martin Treanor, author of The Silver Mist
"Fast paced, great plot, a plausible scientific reason for some of the actions, it didn't disappoint." –Donna
Pick up the compelling suspense, The Delta Chain, today.