$400 Holiday Reader Giveaway
Enter our $400 Holiday #Reader Giveaway!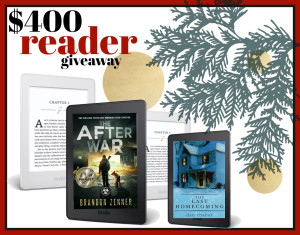 If you'd like a chance to win a Kindle Paperwhite eReader, enter our $400 Holiday Reader Giveaway. When we say we are the No.1 site for reader giveaways, we aren't joking. Ask any of our winners! We've offered giveaways for over 4 years now, and this Christmas is our best holiday giveaway yet.
So enter now and everyday. You could be one of our next winners!
WHAT: $400 Holiday Reader Giveaways
WHEN: Dec. 18, 2017 – Jan. 7, 2018
PRIZES: Four (4) Kindle Paperwhite eReaders ($100 value each)
HOW? Scroll through the books below and click on the covers that look like "your kind of books". Then enter the Rafflecopter form, subscribe, and follow the authors who write the kind of books you enjoy. Who knows, you could meet your next favorite writer!
HINT: Supporting our authors will add 5 entry points each day. Share our sponsors' books, tweet their Amazon buy links, follow them on Amazon, share on Facebook, etc, etc. And, yes, you can buy their books. Their is no purchase necessary to enter or win, but obviously when you support our sponsors and read their work, we can continue these reader giveaways. Enter every day and tell all your reader friends to enter, too! Good luck!