Home
»
Uncategorized
» A Heart-Warming Look at Life's Difficulties through the Eyes of Animals
A Heart-Warming Look at Life's Difficulties through the Eyes of Animals
If you have a soft heart for four-legged friends of all varieties, check out today's featured book, For Animal Lovers by Kim Cano. A touching and thought-provoking collection of three short stories told through the eyes of animals. It currently has a 4.7 star rating with 21 reviews. Best of all, 10% of the sale price is donated to the ASPCA® to help homeless pets!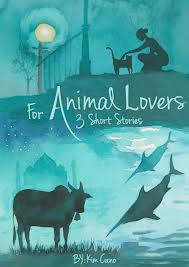 A Brief Synopsis of For Animal Lovers:
For Animal Lovers is a heartwarming book for kids ages 9-12. Although mainly a short story collection for children, it also appeals to adult readers who are young at heart. Prepare to be transported into the world of each animal, as they tell their tale in their own words.
"Becoming Sacred" – Charlie is a cow who lives on a farm, but plans to escape and move to India, fulfilling a promise he made to his late father.
"Pascal's Magic" – A classic cat story. Pascal is an adopted shelter cat who has been through a lot. Now with new owners, he finds he needs to work his special brand of magic to save his family.
"Abduction at Sea" – Alice is a special-needs swordfish who's obsessed with aliens. In order to be an independent gladiator of the sea, Alice has to learn to confront some of the greatest dangers the ocean has to offer.
About the Author:
Kim Cano always wanted to be a writer. She took courses online at Writer's Online University, read lots of Writer's Digest books on technique, and subscribes to Writer's Digest magazine. And, of course, she loves to read. Yet she never devoted enough time to her passion. She would get around to writing "someday."
When the company she worked for closed its doors, she decided it was the perfect opportunity to write her first novel. While working on the second draft, she was meditating and got an idea: why not put a few short stories together as an e-book and share them with everyone–for fun, and to help raise money for animals. 10% of the book's sale price is donated to the ASPCA®.
What People Are Saying About For Animal Lovers:
"…heart warming and creative stories that make you feel inspired, hopeful and touched by everyday human conditions through creative characters of animals." –Kat
"Kim Cano's "For Animal Lovers" is a collection of three short stories that go straight to the heart of the human animal. All three stories feature animals who talk, telling a story with a very nice lesson." –S. Warfield
"Kim Cano has embarked upon a very different path to take the reader into the mind of an animal. Makes you think, doesn't it? The three stories she has outlined here are thought-provoking and easy to read." –Linda B.
Grab your copy of For Animal Lovers today.