A Superbly Crafted YA Novel
Kindle friends, today's featured book is Essence by Heather Case. This young adult novel will have people of all ages quickly turning the pages to find out what happens next. Essence has a whopping 4.9 star rating with 13 reviews. "I enjoyed the characters, especially Ana, a teen-aged girl trying to find her place after experiencing some difficult situations in her life. I have a feeling this will be a series to follow & I would encourage anyone who likes a good read to grab it!!" -E.G. Sanders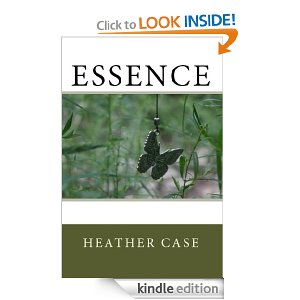 A Little About Essence:
Ana Drummond is a seventeen-year-old high school junior who finds herself being uprooted from her diverse neighborhood in Chicago. As she arrives in rural Georgia to accommodate her mother's career, Ana struggles with the nuances of southern society. She also wrestles to define who she is and what she wishes to become in light of the death of her father and her estranged relationship with her mother. Ana's fervent requests to return to Chicago begin to wane when she discovers Elijah, the soul of a former slave, that dwells in her house.
When Ana and her brother, Gabe, are the targets of a racial assault. Elijah intervenes in the assault to ensure that Ana and Gabe escape, but Ana finds herself in the ironic position of trying to convince her mother that the family should stay in Georgia to pursue tolerance and justice.
About the Author:
Heather Case lives in Indiana with her husband and two daughters. She works as a College Counselor both in an independent school and as a private consultant. She is passionate about helping adolescents discover the path that will allow them to become unique and powerful individuals as they journey towards adulthood. For more information about the Essence book series, visit www.TheEssenceBooks.com. For more information about college counseling, visit www.SummitEducationConsulting.com.
What People Are Saying About Essence:
"This is a wonderful, engaging story for adults and teens with relatable characters. You won't be able to put it down and will be anxious for what comes next!" –Terra Aguirre
"I thoroughly enjoyed this engaging book! The descriptions of places and characters made me feel as if I were in Georgia with Ana and her family; the plot was timely and made me again consider the issue of tolerance." –Mark Hood
"All of the characters are well developed and intriguing. I cannot wait for the sequel to come out. I'm dying to know what happens." –Angela Terry
Grab your copy of Essence today.