Home
»
Uncategorized
» HOT NEW Release – Nhakira: Book One – Chosen by Jeanine Henning
HOT NEW Release – Nhakira: Book One – Chosen by Jeanine Henning
Today's HOT NEW Release is Nhakira: Chosen by Jeanine Henning. The first in the Young Adult Nhakira Trilogy. Readers will enter a spectacular fantasy world where magic and evil exist in a battle for ultimate power.
A Brief Synopsis of Nhakira: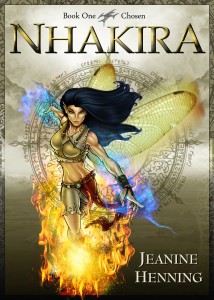 A rebellious slave girl who has a knack for crime and mischief, Nhakira's is in the wrong place at the wrong time, and her life is about to become something entirely different. In a world where magic, freedom, and liberty are banned, Nhakira has just become the "Chosen."
Mistakenly given the power meant for a Farinian warrior, Nhakira must now embark on a journey where good versus evil.
A story of magic, power, and escapism. Become immersed in this one-of-a-kind Young Adult fantasy that won't be soon forgotten.
About the Author:
Jeanine Henning's extensive creative professional background includes children's book illustration and publication, comic book art and publishing, book cover art, console game design and fantasy art. In 2007 'Vin The Virus Hunter' was Jeanine's first critically acclaimed Teen Sci-Fi publication in South Africa, along with the bestselling Scarlett's Curse graphic novel, published worldwide. "NHAKIRA" is Jeanine's first Kindle publication, and she currently writes and illustrates full time. Visit Jeanine's website: www.jeaninehenning.com – and connect with her on her Blog: http://jeaninehenning.wordpress.com/
What People Are Saying About Nhakira:
"Fantasy has always been a great escape from life's  many burdens, but Nhakira is magic all on its own! With her courageous and  stubborn attitude she shows us all how to take our lives and create a little  magic. Jeanine's style of writing is true storytelling, and I can't wait for  Book 2!" – Jo Fielding (Jewellery Designer & Alchemist)
 "For fans of the Maximum Ride series, Hunger Games  and even Harry Potter – you will love this book! This is not the average fantasy  story. Thrilling, intriguing, funny and captivating!" – S. Edwards (Scientist & Researcher)
 "I really enjoyed this book, with all the magic and  imagination!! And I especially loved the idea of a strong female character,  finding herself, and challenging what the 'norm' should be. It's the type of  book I hope my daughter will read  and enjoy one day!" – Nadia van Vuuren (GM, Virgin Active)
Escape into the magical world of Nhakira today.