Your Easiest Path to Naturally Thin
FINALLY – a book to help you create your own weight loss plan – leave dieting behind forever. Take a look at today's feature book The Diet Dropout's Guide to Natural Weight Loss: Find your Easiest Path to Naturally Thin by Dr. Stan Spencer. It currently has an impressive 4.6 star rating with 41 reviews. "Dr. Spencer provides answers to every dieter's most common questions including, the facts behind emotional eating, how to curb cravings, ways to boost your metabolism and delicious healthy recipes." -HMM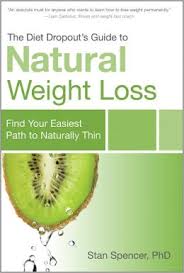 A Brief Summary of The Diet Dropout's Guide to Natural Weight Loss:
This book is NOT the latest food fad, or celebrity diet. It's about creating a personalized weight loss plan—your own easiest path to naturally thin. Virtually any diet can help you lose weight, but keeping the weight off is much more difficult, requiring permanent changes in eating and exercise habits. This book provides a science-based approach for making those changes in a way that works best for YOU, without wasting time, money, or effort.
Dr. Spencer presents an array of practical weight loss tools for controlling emotional eating, calming cravings, boosting metabolism, and improving nutrition and exercise. In the final chapter he has you create a natural weight loss plan based on your unique set of needs, abilities, and preferences. Simple recipes are provided for weight loss foods that reduce cravings and prolong satisfaction.
About the Author:
Stan Spencer, PhD, is a biological consultant and former research scientist. He has conducted laboratory studies in biochemistry at Brigham Young University, in botany and evolution at Claremont Graduate University, and in genetics at the Smithsonian Institution. Stan lives in southern California and blogs on natural weight loss techniques at Fat Loss Science (fatlossscience.org or facebook.com/weightlossbook).
What Fans Are Saying About The Diet Dropout's Guide to Natural Weight Loss:
"Dr. Spencer's book presents a common sense, safe, and enduring weight loss program that presents the essential elements of a healthy lifestyle." — James E. Gangwisch, PhD, College of Physicians and Surgeons, Columbia University
"Very informative, and right on target." — Wayne Westcott, PhD, Fitness Research Director, Quincy College
"If you are looking for a very practical, user-friendly, fact based guide to weight control, this is the book for you." — Jennifer Miyagawa, Registered Dietitian, Jenmi Jenmi
Begin dropping the weight today, grab your copy of The Diet Dropout's Guide to Natural Weight Loss today.