An Edge-Of-Your-Seat Supernatural Suspense
Two strangers submerged in guilt, brought together by fate…Kindle readers, today's supernatural masterpiece and our featured novel is SUBMERGED by International Bestselling author Cheryl Kaye Tardif. "From the first page, you know you are in the hands of a seasoned and expert storyteller who is going to keep you up at night turning the pages. Tardif knows her stuff. There's a reason she sells like wildfire–her words burn up the pages. A wonderful, scary, heart-pumping writer." –M.J. Rose, international bestselling author of Seduction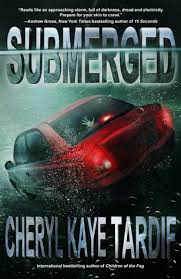 A Brief Synopsis of SUBMERGED:
A devastating car crash has claimed the lives of Marcus Taylor's wife and son and he's buried in grief. His career as a paramedic has ended because of an addiction to painkillers. Working as a 911 operator is the closest he gets to redemption – until he gets a call from a woman trapped inside a car.
Rebecca Kingston is headed for a quiet weekend getaway to think about her upcoming divorce from her abusive husband. When a mysterious truck forces her off the road, she is trapped under the steering wheel unable to help her two children in the back seat. Her only help is a cell phone with a rapidly depleting battery and a calm voice on the other end telling her everything will be all right.
About the Author:
Cheryl Kaye Tardif is an award-winning, international bestselling Canadian suspense author. Her novels include Submerged, Divine Justice, Children of the Fog, The River, Divine Intervention, and Whale Song, which New York Times bestselling author Luanne Rice calls "a compelling story of love and family and the mysteries of the human heart…a beautiful, haunting novel." She is now working on her next thriller.
What Fans Are Saying About SUBMERGED:
"Tardif once again delivers a suspenseful supernatural masterpiece." –Scott Nicholson, international bestselling author of The Home
"From the first page, Cheryl Kaye Tardif takes you hostage with Submerged–a compelling tale of anguish and redemption." –Rick Mofina, bestselling author of Into the Dark
"Submerged will leave you breathless–an edge of your seat, supernatural thrill ride." –Jeff Bennington, bestselling author of Twisted Vengeance
What are you waiting for? Pick up your copy of SUBMERGED today.