The Newest Adventure of Neville Lansdowne
Dive into the newest, wild and quirky, Adventure of Neville Lansdowne. Take a look at today's HOT NEW Release – Scribbling by Jonathan Goulding. "One of the best things about picking up a book by Jonathan Gould is the knowledge that there's absolutely no doubt you are going to be smitten, entertained, and basking in the afterglow of a satisfying read!" –Beeshon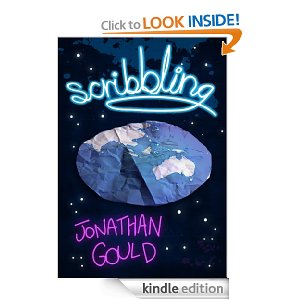 A Brief Synopsis of Scribbling:
Neville Lansdowne pushed the world out of shape. He didn't mean to do it. He didn't even realise he had done it. If you had asked him, he would have said that, as far as he could tell, the world was the wrong shape to begin with.
In a world that is totally the wrong shape, Neville meets a new bunch of eccentric characters, and embarks on another strange and wholly unexpected adventure.
About the Author:
Jonathan Gould has lived in Melbourne, Australia all his life, except when he hasn't. He has written comedy sketches for both the theatre and radio, as well as several published children's books for the educational market. He likes to refer to his stories as dag-lit because they don't easily fit into recognisable genres (dag is Australian slang for a person who is unfashionable and doesn't follow the crowd – but in an amusing and fun way). You might think of them as comic fantasies, or modern fairytales for the young and the young-at-heart.
What a Fan has to Say About Scribbling:
"Like Neville, I was thrilled at his new-found powers but then there are all those other people you have to consider. It is funny. There were parts where I laughed out loud. Another great addition to Dag-Lit." –Amazon Reader
Do not hesitate to grab your copy of Scribbling today. You won't be disappointed.