Can Devon Unravel the Family Curse?
Paranormal lovers, take a look at today's HOT NEW Release, Long Black Veil by Jeanette Battista. Can she unravel her family's curse before it claims her too?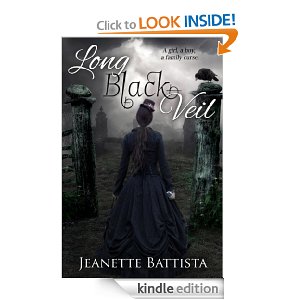 A Brief Synopsis of Long Black Veil: 
A girl, a boy, a family curse…. Devon, a high school senior, is desperate go to college and get away from her mountain town. But that's before she meets Brock and begins seeing the ghost of a woman in a black veil. Why is she being haunted? Why is her grandmother warning her away from Brock? And what does the ghost have to do with the tragic events in Devon's mother's life? Can she unravel the curse before it claims her too?
About the Author:
Jeanette Battista graduated with an English degree with a concentration in medieval literature which explains her possibly unhealthy fixation on edged weapons and cathedral architecture. To satisfy her adrenaline cravings—since sword fighting is not widely accepted in these modern times—she rode a motorcycle at ridiculously high speeds, got some tattoos, and took kickboxing and boxing classes. She lives with her daughter and their two psychotic kittens in North Carolina.
What A Fan Is Saying About Long Black Veil:
"I really enjoyed this book and read it in one sitting. I totally liked the relationship between Brock and Devon. I liked how their relationship developed and how there was more to the story than just them." –Yoli
Make sure to grab your copy of Long Black Veil today.