A Clever & Witty Whimsical Fantasy
If you love a magical story with the right amount of satire and wit, take look at today's HOT NEW Release, Magnus Opum by Jonathan Gould. It currently has an impressive 4.4 star rating with over 20 reviews. A.F. Stewart calls Magnus Opum a, "whimsical fantasy novel, that trips along the path fantastic…The characters are both amusing and appealing, and carry the reader blithely along on the adventure…. It strikes a perfect balance of odd and sincere and I give it an enthusiastic recommend."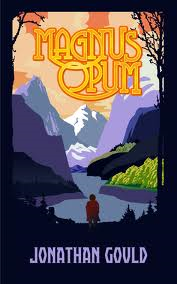 A Little About Magnus Opum:
Magnus Opum is an epic fantasy that's slightly skewed – Tolkien with a twist. "At the end of the day, the story of Magnus Mandalora of the small homely village of Lower Kertoob is fun, funny, educational, and a master work of both parody AND satire rolled into an easy-to-read family-friendly story." – Jeremy Rodden, author of Kindle bestselling cartoon novel – Toonopolis: Gemini (Toonopolis Files, #1)
About the Author:
Jonathan Gould has lived in Melbourne, Australia all his life, except when he hasn't. He has written comedy sketches for both the theatre and radio, as well as several published children's books for the educational market.
He likes to refer to his stories as dag-lit because they don't easily fit into recognisable genres (dag is Australian slang for a person who is unfashionable and doesn't follow the crowd – but in an amusing and fun way). You might think of them as comic fantasies, or modern fairytales for the young and the young-at-heart.
What Readers are Saying about Magnus Opum:
"Do you ever get one of those moments when you want to lose yourself in a book that is totally magical, brimming with imagination and fantasy, and entertaining from start to finish? This book by the very talented Jonathan Gould is the very thing that delivers on all counts." – cnkbookreviews.blogspot.com
"Jonathan Gould is a master at "Adult Fables"…Turning his talents to a full length novel – Magnus Opum – Gould creates an even richer world and experience…" – reviewmybookonamazon.wordpress.com
"Magnus Opum is a wonderful story – there's no doubt about that.  Magnus has a quest and he embraces it fully, it takes him to new places and he encounters new races during his adventures.  However, it's the things that Magnus learns that really make this story shine for me." – bookbagsandcatnaps.com
Delve into a wonderful adventure. Pick up your copy of Magnus Opum today.