2012 Best Indie Book Finalists
Hi, Kindle Readers!
We have a special treat for you today. So if you're wondering where you can find great reads by lesser known independent and small press authors, you have come to the right place – at the right time. Today we are announcing the finalists in our 2012 Kindle Book Review Best Indie Book Contest. We will feature these books all week, too! These titles are the top 30 books out of over 170 semifinalists.
But stay tuned. We will announce the Grand Prize Winners and the Winner of a KINDLE  FIRE on Oct. 1st! We will give away over $1,000 in cash and prizes!!!!  And sign up by email to get our daily freebie alert and featured great reads. Click here to ~> SUBSCRIBE
Now, without further ado, here are the TOP-5 Finalists in each category!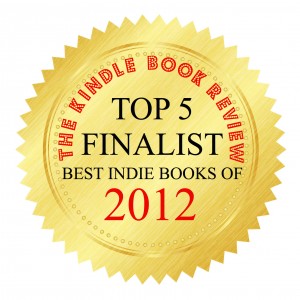 HORROR/SUSPENSE…
Devil's Hand by M.E. Patterson
The Beautiful Evil by Robbi Bryant
The Drought by Patricia Fulton
The Dying of the Light by Jason Kristopher
This Time You Lose by Chris Stralyn
LITERARY FICTION…
A Death on the Wolf by G.M Frazier
After the Fog by Kathleen Shoop
Come Back to Me by Melissa Foster
Pegasus Falling by William E. Thomas
River in the Sea by Tina Boscha
ROMANCE…
Deadly Obsession by Kristine Cayne
Hardball by V.K Sykes
The Memory of You by Laurie Kellogg
To Dare the Duke of Dangerfield by Bronwen Evans
Walking with Elephants by Karen S. Bell
SCI-FI/FANTASY…
Bypass Gemini by Joseph Lallo
Contract of Defiance by Tammy Salyer
Dremiks by Cassandra Davis
The Darkening Dream by Andy Gavin
Wool Omnibus by Hugh Howey
MYSTERY/THRILLER…
Chasing Innocence by John Potter
Last One Chosen by Stephen Woodfin
OMAR: A Novel Craig O. Thompson
Project Moses by Robert B. Lowe
The Fall of Billy Hitchings by Kirkus MacGowen
YOUNG ADULT…
Cycles by Lois D. Brown
Open Minds by Susan Kaye Quinn
Purple by Graham J. Sharpe
Untraceable by S.R. Johannes
Wanted: Dead or Undead, The Zombie West by Angela Scott