An Edge-Of-Your-Seat Conspiracy Thriller
Kindle readers, old and brand new, take a look at today's featured novel, The Folks at Fifty-Eight by Michael Patrick Clark. It has a 4.2 star rating with 30 reviews. "A spy story, detective novel, historical fiction and conspiracy thriller all rolled into one, but with a subtle blending that paints a complete picture and draws you into a post WWII world." -C.Kruger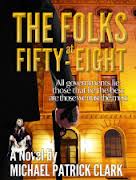 A Little About The Folks at Fifty-Eight:
Gerald Hammond is the exception to the rule; an honourable spy, whose lofty principles have brought him nothing but loneliness and isolation. Catherine Schmidt is the beautiful young daughter of an assassinated spymaster, whose murderous quest for vengeance has left her at the hands of the infamous Head of Soviet State Security. On a secret operation, in Soviet-occupied Germany, Hammond has no knowledge of the forces that support and oppose his mission. He only knows that he must somehow save her to save himself, but, as ever-more disturbing revelations arise, begins to wonder which poses the greater threat; the enemy he runs from, or the friend he runs to? Set against a factual background of government conspiracy, and one of the most audacious espionage coups in history, the Folks at Fifty-Eight is a beautifully-paced tale of seduction, betrayal, blackmail, and murder that blurs the boundaries between fact and fiction.
About the Author:
Michael Patrick Clark, author of The Folks at Fifty-Eight and Flying with Cuckoos, was born on The Fourth of July 1950 in London, England. He spent the first few years of his life in an orphanage, before adoption brought a new life. Michael joined the armed forces as a boy apprentice, and over the ensuing years he travelled the world. In the late seventies Michael moved into the high-tech industry. After twenty-five years, made the life-changing decision to move to Spain, and write novels. If you'd like to get in touch with Mike visit his website at http://www.michaelpatrickclark.com/ add him on Twitter: @mpclark77 / add him on Facebook: MichaelPatrickClark
What Readers are Saying About The Folks at Fifty-Eight:
"This is the best spy novel I have read in quite some time" – Amazon Reviewer
"A subtle homage to the detective and spy novels of the 50's and 60's" – Amazon Reviewer
"Delicious spy novel, bold and graphic." – Amazon Reviewer
If you haven't picked up your copy of The Folks at Fifty-Eight, snag a copy today.