Fabulous Chick Lit Lingers Long After Last Page
You will laugh and cry with today's humorous and insightful glance into life with breast cancer in the fabulous chick lit, Storm in a B Cup by Lindy Dale. Storm in a B Cup already hails an impressive 5 star rating.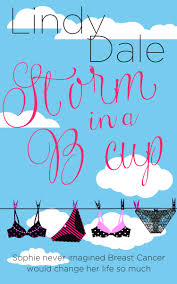 A Little About Storm in a B Cup:
"Dear Cancer, I hope you get cancer and die, Love Sophie." Sophie's brush with Breast Cancer brings more than the loss of a breast. It's the catalyst for life changing events, none of which involve chemotherapy. A fictional tale, based on the author's journey with the disease during 2012-13, Storm in a B Cup, is a warm-hearted glimpse into the world of a Breast Cancer sufferer that will have you laughing aloud.
About the Author:
Lindy began writing at University but never really wanted to be 'an author'. She wanted to be a Princess or at worst a Kindergarten teacher. Her first novel, Heart of Glass was penned in 2007 and since then she has developed her voice as a Chick Lit and Women's Fiction author. Her greatest achievement to date is having a Top Five Bestseller on the Short Stories List with Amazon early in 2013. Filled with hilarious and sweet moments the novella, A Cupid Kind of Day, is a good representation of Lindy's humorous writing style.
Fans Are Raving About Storm in a B Cup:
"Hilarious and insightful, this is great reading for anyone who has ever known someone touched by cancer. Which is basically all of us." –Lee Murray
"I couldn't put this book down and applaud the author on handling a charged subject with such a tender, insightful and humorous hand. As for romance–well yes, there is that too. But I won't say anymore–you'll have to read for yourself. Great job, Lindy." –N. Wells
"I've never read anything by Lindy Dale before, but I can say that I'm now a huge fan of hers. Whether you or a friend has or had breast cancer, I highly recommend this "Storm in a B Cup". For dealing with such a serious topic, "Storm in a B Cup" will make you laugh and cry. It was a wonderful book that I won't forget." –Chauncey Anderson
Fall in love with the fabulous chick-lit, Storm in a B Cup today.