A Page-Turning Historical Romance
Kindle friends, take a look at today's charming romance and our featured book, Chasing Clovers by Kat Flannery. It has a 4.3 star rating with 75 reviews. "A compelling story line. A combination of suspense, tension and romance will keep you turning the page until the end." —Michelle Ferguson, author of From Away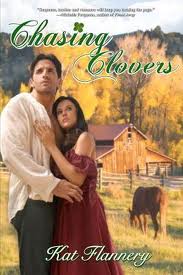 A Little Chasing Clovers:
Mail order bride, Livy Green, is running from her past. John Taylor's children need a mother, but he has vowed to never love another woman again. Will they learn to trust each other, or will their pasts interfere?
Longing to escape her past, Livy Green lies so she can be a wife to John Taylor and help raise his two young children. Overwhelmed by the task, she struggles to put her resentment aside and love them as her own.
John is still devastated over his wife's untimely death, but he needs a mother for his children. When his distant mail order bride arrives, he doubts his decision, though one glance into Livy's terrified green eyes tells him he can't turn his back on her.
When suspicious accidents begin to happen on the ranch, she is tempted to tell John the truth. But will he send her back if she does? Or will they forever be CHASING CLOVERS?
About the Author:
Kat Flannery has loved writing ever since she was a girl. She is often seen jotting her ideas down in a little black book. When not writing or in school, she enjoys snuggling on her couch with a hot chocolate and a great book. Kat has had her writing published in numerous periodicals. She is now hard at work on the next novel. When not focusing on her creative passions, she is busy with her three boys and doting husband. www.katscratch.blogspot.com
www.katflannery-author.com
What People Are Saying About Chasing Clovers:
"Everything I wanted in a Historical Romance was in this story…Any romance aficionado will love this book and this author." —Tammy Gaines, NovelOpinion
 "This was an exceptional book, well written and engrossing. I enjoyed that it was romantic without feeling tawdry. I would recommend it to anyone who craves a love story without the too-present sex." –Abby Schock
"It is a fast-paced and suspense-filled story and leaves you wanting more. The characters come alive and it is very easy to lose yourself in this book. I will definitely be looking for more books from this author." –Debbra Winkleman