FREE Romance Set and Action-Packed Suspense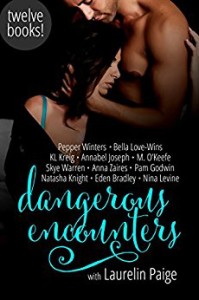 Desire. Betrayal. And breathtaking romance all FREE! Today's feature is the Twelve Book Romance Set, Dangerous Encounters by several incredible authors.

What happens when love and secrets collide? TWELVE steamy books from bestselling authors! If you love alpha heroes and strong heroines, you'll love this FREE boxed set!
"Brilliant. Seductive. Emotional. Suspenseful. Laurelin Paige has done it again with her sexy, protective, alpha males." – Shayna Renee's Spicy Reads
"Absolutely beautiful… I'm stunned. The King was everything I wanted and more. Both damaged and broken Penny and Damon will steal your heart." – A Naughty Book Fling
"CAPTURE ME is a spellbinding tale of treachery, revenge, lust and international intrigue that pits a Ukrainian spy against a dangerous man of mystery who is employed by a world renowned arms dealer!" – Epic Romance Reviews
Check out the action-packed suspense, Dead Man's Hand by Luke Murphy. **The next in the series, Wild Card, is set to release on October 14th.

From NFL rising-star prospect to wanted fugitive, Calvin Watters is a sadistic African-American Las Vegas debt-collector framed by a murderer who, like the Vegas Police, finds him to be the perfect fall-guy.
Against his superiors and better judgment, Dayton is willing to give Calvin one last chance. To redeem himself, Calvin must prove his innocence by finding the real killer, while avoiding the LVMPD, as well as protect the woman he loves from a professional assassin hired to silence them.
"Luke Murphy writes in a clean, mean style, as compelling as a switchblade to your throat. Murphy's the real deal." —Rick Mofina, award-winning author of They Disappeared
"Dead Man's Hand gripped me with terror from the first sentence. Tense! Thrilling! Terrifying! Luke Murphy is a great mood-builder on the order of Dean Koontz!" —Betty Dravis, award-winning author of Six-Pack of Blood

Bonus Book: